Today we raise our fists high and put our hands together in celebration of our Feature Girl Warrior, the long recognized and praised creative force in acoustic music, Claire Lynch, a pioneer who has continually pushed the boundaries of the Bluegrass genre. Her career has been decorated with many accolades including three GRAMMY nominations, eight International Bluegrass Music Association awards and the prestigious United States Artists Walker Fellowship. Dolly Parton credits Claire with "one of the sweetest, purest and best lead voices in the music business today." Her harmonies have graced the recordings of many stellar musicians. Equally gifted as a writer, her songs have been recorded by The Seldom Scene, Patty Loveless, Kathy Mattea, Cherryholmes, The Whites, Irene Kelley, Pierce Pettis and others. Blazing her own trail in the mid 70s when there were few role models for young women in the genre, Claire Lynch made history when she led the Front Porch String Band which evolved in the 80s and 90s into "one of the sharpest and most exciting post-modern bluegrass bands on the circuit." She formed her own Claire Lynch Band in 2005 and has since consistently been a top pick of prestigious publications, critics and audiences across the U.S. and beyond. In January 2013, after a long successful stint with Rounder Records, Claire signed a recording agreement with esteemed Nashville roots label Compass Records. With their co-founder Garry West producing, she released the ninth solo recording of her career titled Dear Sister. By Summer 2013, and over a period of almost two years, the album reached the #1 position seven times on the Roots Music Reports Top 50 Bluegrass Chart. It received an "Album of the Year" nomination at the 2013 IBMA Awards and twelve months later in October 2014, Claire and her cowriter Louisa Branscomb were aptly awarded IBMA's "Song of the Year" trophy for their brilliant piece, Dear Sister. In September 2016, Claire released North By South – a tribute to America's northern neighbor, which resulted in her third GRAMMY nomination for Best Bluegrass Album. Produced by Compass Records' co-founder Alison Brown, the recording pays homage to some of her favorite Canadian songwriters, interpreting tracks from greats like Gordon Lightfoot and Ron Sexsmith. Lynch's Canadian leanings all started when a fan's email suggested places for her to play in Toronto. When she emailed back, it sparked a long correspondence about Canada's culture, history and diverse art scene. She eventually did score a gig in Toronto and what's better, she fell in love with her pen pal leading to their marriage in 2014. North By South is the product of a growing love for Canada that is now one of the centerpieces of Lynch's life. And to that we say, a big beautiful harmonious YES!
What makes you a Girl Warrior?
In the past, I've not thought of myself as a warrior – "girl" or otherwise. But I'm older now, more open to different points of view and less accepting of the cultural "norms" I grew up with. The path I've been on has been a battle for sure, but I tend to promote love, not war. 
At 12 your family moved from Kingston, NY to Huntsville, Alabama. How did that move shape your early music and the trajectory of your career?
I suspect that if I'd stayed planted in New York State, the chances are much less that I would have been exposed to Bluegrass music in its root form – and probably would have ended up taking "God knows what" other route
When I moved to Alabama – my musical trajectory slowly started to bend. There were syndicated TV programs being broadcast out of Nashville that showcased musicians playing traditional Bluegrass instruments. I'd never seen anything like that in New York! Meanwhile, my world view became seasoned with church meetings, new friends with Southern accents and foods like pecan pie and chicken & dumplings being served at social gatherings. It wasn't 'til the end of the Folk Movement in the early 1970s when I discovered that Bluegrass was being played on college campuses and local festivals. Then my musical trajectory took a pretty sharp turn. Of course Bluegrass was gaining popularity everywhere from California to Maryland. But I think people my age in the Deep South took a particular pride in the resurgence of hillbilly music – it was part of the region's cultural roots. By then, I was a fully integrated Alabamian. Consequently, when I started hanging around friends who were in a Bluegrass band and was asked to join, I jumped in with both feet.
Back then who were some of your most important musical influences and why?
On the earlier side of influences, I'd have to say that because of my family I got a huge amount of exposure to singing and songs – everything from church music to big band era and Broadway musicals. At home in New York, everybody in the family sang. We had a catch phrase – "A song for every occasion." No matter what was happening around us, we were prone to breaking out in a song of some relevance.
Later when I'd joined a band, I considered the first generation musicians/singers/songwriters as part of the curriculum for my Bluegrass education. But the kinds of artists that my heart sat up and took notice of were mostly women. I loved Dolly Parton – because of her vocal ability which was Bluegrass-tinged and because she took great pride in songwriting. I loved Emmylou Harris because of her extraordinary voice and her Folk/'Grass/Country leanings. I was also drawn to Nancy Griffith whose voice and writing captivated me and I remained a Joni Mitchell fan from around 11th grade on. I've never stopped loving her.
What are your fondest memories, vis-à-vis music, of your teenage years spent in Huntsville?
I was just a Yankee kid who came there pretty ignorant of the Southern music culture. My main goal was to try to fit in socially. So I put my attention where others my age were putting theirs. The Beatles were still on the radio but friends were collecting record albums from Crosby Stills & Nash, The Who, Three Dog Night, Linda Ronstadt…. then came Jimi Hendrix – you name it. We were still learning songs from the Joan Baez Songbook too. I had a girlfriend from school named Cindy Diamond and we were hip to playing guitars together after school. We recorded ourselves on reel-to-reel and made up songs – mostly parodies. Those after-school hours spent in Cindy's garage are probably some of my fondest teen-year musical memories.
How did your life change when you discovered Bluegrass music?
I had graduated from high school and although my parents offered to send me to Cornell University in NY near where they were about to move, I decided that Alabama was my home and I was going to just stay there and get a job. I was working at an insurance agency when I discovered Bluegrass music.
A friend from high school, Larry Lynch, was attending college at the University of Alabama in Tuscaloosa. During Spring Break, he and his buddies from T-Town with whom he'd formed a Bluegrass band were performing in Huntsville where I was working. It was an event called SpringFest on the University of Alabama Huntsville campus. I attended the event and saw them open for a McLain Family Band concert and I was hooked right then and there – not only by the music but by Larry. After a few months of dating him, the band discovered I could sing and asked me to join up. By then the boys had all quit college to pursue this music dream. Being 19 years old and lacking any judgment, I quit the job at the insurance agency and joined the band. We lived on tomato sandwiches and free dinners at a club where we played. Money was scarce. So I'd say my life changed drastically at that moment. Matter of fact, if not for that discovery of Bluegrass I would probably have ended up an insurance agent and might have even seen the sense of going on and getting my college degree. But my life turned out to be a lot different, that's for sure! 
What was it like as a female Bluegrass musician in the 70s at a time when men dominated the genre?
Mind you, we were in Alabama and only playing in Georgia and Florida for the most part during that time. I felt very little resistance from the Bluegrass "good ol' boys", honestly. I think it's because the rule of thumb there was, "If you can't say somethin' nice about somebody, don't say nothin' at all!" So even if folks judged me, I felt very little of their scorn. There were exceptions to that from time to time. There was a band called "The Dixie Bluegrass Boys" on the Alabama festival circuit and, as I recall, they were openly annoyed by my presence. I never was a "pushy female" at jam sessions. I'd just as soon not even be part – so I usually didn't sing unless called upon. There is certain etiquette to jamming which some people are ignorant of – and I don't care if you're male or female – if you don't use your manners you can be met with resistance. Some "greenies" take that resistance as a lesson and others as an offense. Such is the world.
Honestly, I experienced more resistance to the fact that I was a musical game-changer within the genre's traditional footing. Yes, partly because I was female – but also because I wanted the music to evolve and grow into something new and fresh and I thought I was free to do that, being it was America and all! The real me never was and never will come from an entirely "rural" place.
You made history when you led the groundbreaking Front Porch String Band. What were some of the biggest challenges you faced?
Challenges consisted of keeping money in in the bank account and that involved booking gigs… moving from local to regional and eventually national. I was the one with office experience – so the task fell mostly to me. My office was in my home – I was never free of it. By then I had married band mate Larry Lynch and the two of us spent just about every waking hour together. Mixing your personal life with others in a professional setting is a challenge if/when it's not a blessing.
What was it like being in the FPS Band for 25 years with your husband Larry? Would you do it again?
I'm grateful for what Larry taught me and for the patience he demonstrated most of the time. But if I had to do it over, no, I would have found an independent path to playing music and I would not have relied on a man to "cover" for me. I guess the fact we were a married couple afforded me an advantage in some ways – particularly in the right-leaning, traditional patriarchal society in which Bluegrass was situated. But if I knew then what I know now, I would have tried to forge a music career by myself.
Why was it important to strike out on your own with the Claire Lynch Band? How was it different than fronting the Front Porch String Band?
The record companies dictated most of those changes. Here's the chronology.
1) The Front Porch String Band
2) Claire Lynch and the Front Porch String Band
3) The Claire Lynch Band
Record companies were calling and asking me to record. When I brought up the question of their recording the Front Porch String Band – they indicated they wanted to record "me", not "the band." This was a tough thing for me to grapple with. Remember, I was married to one of my band mates! And I thought I was content with the way things were. I had no desire to ruffle any feathers or show blind ambition. I can't deny that having labels wanting to record me as a solo artist wasn't flattering and appealing. It was. But I had no intention of making a move unless I got my husband's approval.
Honestly, I thought his saying he approved of my recording a solo record meant he did. Turns out he didn't. Meanwhile I kind of blindly followed my heart and navigated certain insistence from labels by suggesting we transition our band name to "Claire Lynch & The FPSB." They all agreed.
Years later after having children, after quitting playing music to try and save the marriage, Larry and I still couldn't get along. This may be when you want to hear about the abuse I suffered – and how it's a factor that contributed most to my "Girl Warrior" persona. Eventually after the divorce, I decided to get back into the music business. That's when I took on the "Claire Lynch Band" name.
Striking out on my own after what I'd endured made me feel like I was on vacation, honestly. I didn't have to screen songs I was interested in through my husband and have them accepted or vetoed. If I wanted to tackle something artistically, I was free to do that! My life and my artistry were my own. It felt great.
You've been nominated and won many music awards, including being inducted into the Alabama Bluegrass Music Hall of Fame. Congratulations! Are these accolades and tributes like children and you love them all equally, or does one stand out above the others that makes you think, "Wow, I can't believe that happened!"
Thank you. Well, being a Yankee from NY and having the Alabama Bluegrass community embrace me as one of their own gave me a sense of place and identity. I'm forever grateful to those precious people. Alabama is my home and it's where I lived for the great majority of my life. So I guess I'm one of them now.
But there are so many things that, while they were happening to me, didn't feel as eventful as they should have. It was only when I stopped long enough and had a chance to look back and see what recognition I'd received for my accomplishments that I had the "Wow!" moment. Matter of fact, I've had several of those over the years now. ABMA Hall of Fame was certainly one. But Song of the Year with IBMA (for Dear Sister) may have been my proudest moment so far. Then there's the United States Artists fellowship. That was a biggie too.
What was the most important thing you learned about yourself while working full-time in Hazel Green, touring on weekends, and driving on vacation days to Nashville to write on Music Row – all the while raising your family?
I think I learned that hard, exacting, detailed work makes for excellence and gets results.
You toured as a backup vocalist for Dolly Parton, who said you have "one of the sweetest, purest and best lead voices in the music business today." What do you remember most about that time?
Ha! I remember THREE things…
I had a herniated disc during that time and really suffered until my surgery got scheduled. So I remember how much pain I was in!
The other thing I remember was how much easier it was to be in somebody else's band rather than run my own!
I also learned that Dolly was just as honest and generous as the day is long.
How did your life change when you got an email from a Canadian fan?
Drastically, eventually! I'd been broken up with my husband for six years. For a long time I faced every day with a bounce in my step and a smile on my face. It was so glorious to live my own life! Then one morning, out of the blue, I woke up and declared to myself, "I'm lonely!" When "this Canadian fan" started emailing me, I was amused and beguiled. He had a wonderful way with words, a great sense of humor, artistic sensibility and was very handsome. As our relationship deepened, I felt supported and appreciated for the first time in years… probably since the time I left home after high school.
How did your album North by South come about? Why was it important to you to make that album?
Well, I was dating this Canadian. He was an educator and he set out to explain and demonstrate to me the difference between Canadians and Americans. As a general rule, I came to realize that we Americans tend to think of Canadians as some extension of our own society – either that or we just never paid attention. I learned about Canadian culture, government, landscape, society and history. Part of that was my discovery of the Canadian songwriting community. I was highly impressed and came to realize that a lot of Americans were unaware of these intelligent tunesmiths living above the border. It was time to record another album for Compass Records at the time, so I decided to share some Canadian songs with my friends and fans in the U.S. and overseas. We recorded in Nashville where I was living at the time. And my band (from MD, NC and FL) assisted with brilliance.
What do we need to know "for sure" about thriving and longevity in the music business?
Pray for rain but keep on hoeing! Also… don't give in if someone hands you an opportunity that doesn't resonate with your own musical vision. 'Tis better to be true to your art and come from the heart. 
What is the one lesson that has been the hardest to learn and why?
Gosh… how to say "no" to friends and cohorts. Being co-dependent by nature, I tended to want to please everyone first and take care of me last. But that can harden you in the long run and make you resentful.
What would you say to your younger Girl Warrior?
If we're talking music, I'd say – get out in front of an audience and learn how to entertain. Entertainment is a service industry. Be aware of what they respond to and learn from that and tweak your presentation accordingly. Recording, airplay and career jumps will come later… but now is the time for honing your craft!
If I'm speaking to any younger woman who's set out on a path different than mine, I'd say be mindful of those around you… use courtesy because class and manners go a long way. And remember that detail in your work may be the key to excellence. Oh yeah… and be inquisitive!
What would you say to future Girl Warriors looking for inspiration?
You will know when someone or something inspires you! Just be mindful and try to recognize it when it happens. Ponder what it means to you. Are you willing to pursue something in life that inspires you and makes you want to act? If that's the case, chances are you'll be good at it.
Who is/are your Girl Warrior hero(s) and why?
I reckon Dolly Parton is a hero for me. She knows when to stand up for herself and is willing to confront with kindness. Linda Ronstadt is another hero. She kept herself strong, wasn't afraid to speak up politically and stayed grounded in family and her identity. She knew what she had to do artistically and forged ahead against opposition from her record labels.
Blue Sky it. No boundaries here, just limitless opportunities. Where do you see yourself in 5 years?
Oh God! Well… now that we're dealing with the pandemic I haven't much of a clue. Honestly, I'd like to find a creative way to slow down the traveling while increasing the creative outflow. We'll see how THAT goes! Because the whole world system has come to a halt of sorts, I see people adapting and creating new ways to thrive in the industry. That's my goal too.
If a bioflic were written about your life, what would it be called, and who would play you?
"Six String Heart" and Kyra Sedgwick.
To learn more about Claire, head over to her website at: https://www.clairelynch.com/
Enjoy a sampling of her musical talent and artistry on these videos:
https://www.youtube.com/watch?time_continue=4&v=2jSxTBA0-N8&feature=emb_logo
https://www.youtube.com/watch?v=SHOkBDM0284
https://www.youtube.com/watch?time_continue=2&v=M5ynIX0G-fQ&feature=emb_logo
https://www.youtube.com/watch?time_continue=2&v=hFyHVW1gz6U&feature=emb_logo
Connect with Claire on Instagram at: https://www.instagram.com/clairelynchmusic/
Facebook at: https://www.facebook.com/clairelynchmusic
And Twitter at: https://twitter.com/clairelynchsong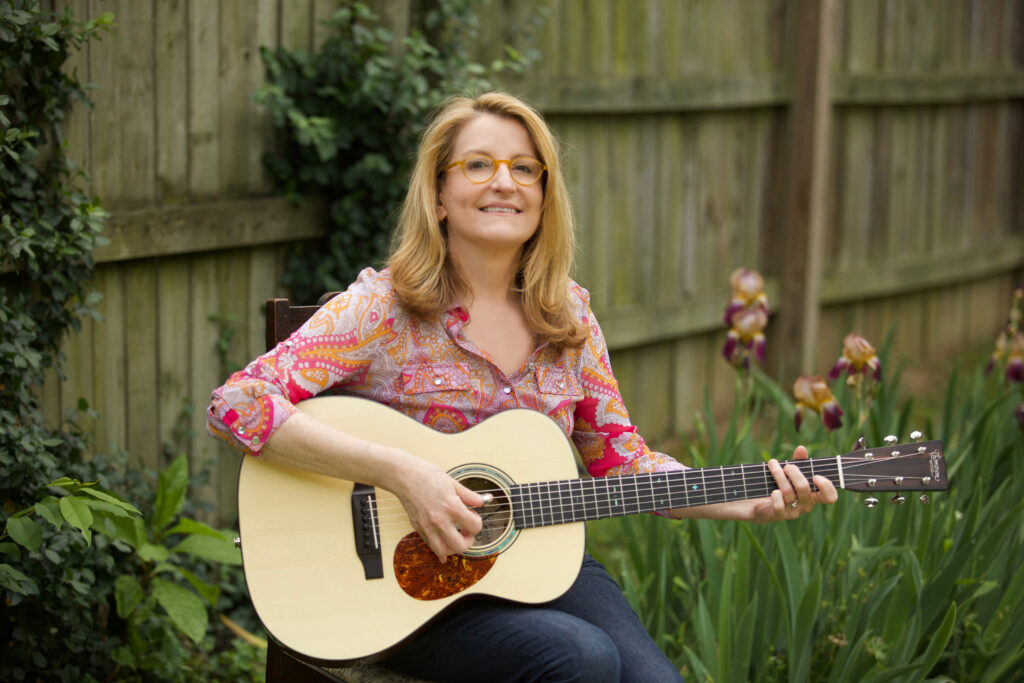 Photo Credits: Image above and feature image by Ian Gray.